Electric mountain Gravity scooter e-CORE AIR 1000W 48V
Delivery Time
approx. 4 weeks - abroad different
Electric mountain Gravity scooter e-CORE AIR 1000W 48V (customized)!
Ideal for mushing with one, two and three dogs.
The Gravity Scooters M10 is a mountain scooter specially designed for sprint mushing competition or for sports use on dirt or asphalt terrains. Its light-weight and low-off-the -ground design optimises propulsion whether it is flat or uphill and it also fits well for downhill or for sport trips with dogs.
Both its low gravity centre and its large board make it easy to drive and so agile. A very resistant CrMo steel frame and its quality components make it strong and durable. The CrMb steel frame is ideal for those mushers who are looking for a higher control of the scooter over the dogs, a better braking and a better stability overall. The large board means that the rider can position their feet away from the handlebars; this, with the arms extended, helps to lengthen the propulsion kick, giving the arms, abs, back and legs a comprehensive workout and achieving high speeds.
Go on a adventure in the nature with up to three dogs. Whether in the undergrowth, in the countryside, on paved road or dirt road, you will enjoy like a kid.






The e-CORE AIR scooter is quiet, powerful, stable, comfortable and safe. On it any descent, route or road are fun.
The 1000W engine gives it enough power to climb steep slopes (obviously depending on the incline of the slope and the weight of the pilot). The battery is reinforced for use in the mountains: both inside (so that the rattle does not damage the batteries) and in the lane where it is embedded. It is easily mounted and disassembled with a key for added security.
Its low center of gravity next to a reinforced CrMb steel chassis and high-end descent components (19 "x 2.5 wide tire, disc brakes, wide handlebar and 130 mm fork), make it an electric mobility machine ideal for mountain use.

The electric scooters of Gravity Scooters are certified under the Machinery Directive (2006/42 / CE) and their circulation is subject to the same rules of circulation as CE certified electric bicycles until January 2022. As of January 2022, many countries and regions have restricted the use of electric scooters on public roads.
The use of this type of vehicle may be subject to specific legislation, depending on the region or municipality where the scooter will be used. The user is responsible for checking applicable legislation and complying with it. Due to the complexity of legislation governing electric mobility vehicles, which varies between countries, cities or even between neighborhoods and areas of the same city, Gravity Scooters SL/Aqua-Terra24 or Chiemsee Scooter cannot be held liable for any improper or unlawful use of their electric scooters and requires its users to comply with the rules applicable in each location.
Spanish legislation allows the Gravity e-Core to circulate until January 2024 without special VPM certification and until January 2027 those that have been sold before January 2022.
German legislation prohibits electric kits of more than 500w, therefore, it prohibits the Gravity e-Core on public roads and can only be used on private land or for competition.
Austrian legislation prohibits electric kits of more than 600w, therefore, it prohibits the Gravity e-Core on public roads and can only be used on private land or for competition.
French law delegates the regulation of electric scooters to municipalities.
TECHNICAL CHARACTERISTICS
WEIGHT: 24 KG
FRAME: Chrome-moly steel.
FORK: RST TITAN 15 QR. AIR 150mm.
BRAKES: Front and rear : Tektro or Shimano mechanical disc brake Ø 203mm. With brake sensor, not to burn the motor or the controller in case of breaking and accelerating at the same time.
WHEELS: Front: 26" x 2.35. Rear: Ø 19" x 2.50
HANDLEBAR: 740mm
BOARD: Antislide surface. Beech board from Brittany in hot forming. Aluminum scuff guard. Wide board, measures: 700 X 200 X 10 mm.
FRAME PROTECTIONS: Aluminum 2mm
MUDGUARDS: Aluminum 2mm
BRUSHLESS MOTOR
POWER: 1000W
VOLTAGE: 48V
BATTERY CYCLES: more than 800
LITHIUM-ION BATTERY 48V 17,5AH. Box with key lock.
MAX. SPEED: 25km/h
MAXIMUM SPEED WITHOUT LIMITATION PROGRAMMED: 45 km/h (not enabled! Only on own Risk)
REAR WHEEL INSTALLATION
THE BOARD

The board of the e-CORE AIR is wide, allows a ride using all the body weight, this helps you to taking bends and to feeling a similar feel to that of board sports.
Board is made of laminated beech from Britain, hot forming to high pressure and using special glues for outdoors. The woods are polished, treated with fungicides against moisture and finally varnished. The wood is coated with a non-skid sandpaper, just like a skateboard, for a rider´s feet better grip. This leaves a completely smooth surface for the feet, without pieces of iron that end up hurting the rider´s feet and damaging the soles.
The inner board, which is not seen without disassembling the scooter, combined with the upper board and frame tubes provides the assembly a great strength. This sandwich system comprising the boards and frame is patented by Gravity Scooters and is another of our unique features.
THE FRAME
The frame of e-CORE AIR is made of CrMb Steel, the most resistant steel.
Its medium height (distance from the board to the ground) is necessary to avoid the rocks of the road in descent, although is low enough not to lose the sensation of surfing the roads that with the augment of this distance disappears.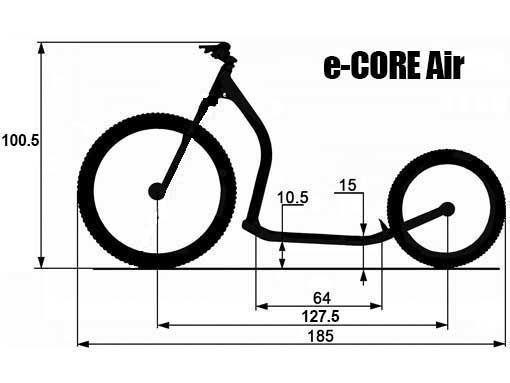 More Information

| | |
| --- | --- |
| ean | 8436576390580 |
| Manufacturer part number | GRAVITY-e-CORE-AIR1000W48V |
| Manufacturer | Gravity Scooters |
| Color | Black |
| Delivery Time | approx. 4 weeks - abroad different |
| Animal Species | Dog |
| Shipping by truck | no |