Arcadia 14W PureSun T5 2,4% UVB 550mm, Bird Lamp
Délai de livraison
2-5 jours ouvrables (lundi-vendredi) différent à l'étranger
The Arcadia Bird Lamp T5 14w 550mm is designed to provide an artificial source of ultraviolet (UV) light for captive birds that cannot be exposed to direct sunlight.
HINWEIS: Diese Lichtquele hat eine hohe UV-Stralung >2 mW/klm und ist nur für die Verwendung im Terraristik-Bereich oder Vogel Beleuchtung zugelassen.
NOTE: This light has a high UV radiation >> 2 mW/klm and is only approved for use in the terrarium/bird cage sector.
Using a light source that mimics the natural UV component of sunlight has health benefits. In addition, birds need UVA for color vision and thus the natural view of their environment and possibly recognition of conspecifics. Unlike normal fluorescent lamps, the Arcadia bird lamp uses special UV emitting phosphors that replicate spectral patterns of sunlight with 12% of the total light output emitted as UV-A and 2.4% as UV-B.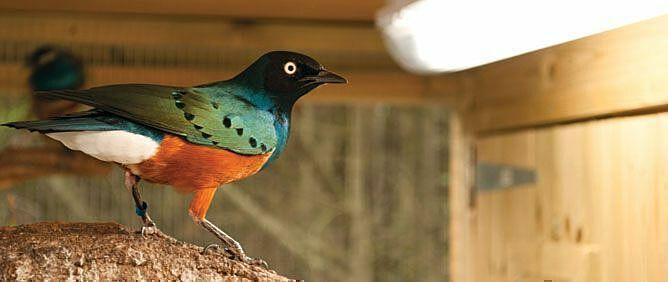 Produces UV light special for birds
Promotes vitamin synthesis
For color vision
Available as fluorescent tube, compact lamp or flood light for aviaries and bird rooms
Improves feeding and breeding behavior
Use our T8 or T5 electronic operating units - zero flicker, even in the bird's eyes
More Information
ean
830857000010
Référence fabricant
FBPS14
Fabricant
Arcadia
Typ
24W/T5 550mm
Délai de livraison
2-5 jours ouvrables (lundi-vendredi) différent à l'étranger
Espèces animales
Oiseau
Envoi par camion
aucun
Technical Details

Modell: Arcadia FBPS14
Verbrauch: 16 kWh/1.000 h mit EVG
Spannung: Vorschaltgerät erforderlich
Frequenz: 10-40kHz
Fassung: T5 (16mmDurchmesser)
Länge: 550mm Lichtfarbe: 5800
Schutzklasse: IP 20
UVB: 2,4% / UVA: 12%
Modell: Arcadia FBPS14
Verbrauch: 16 kWh/1.000 h mit EVG
Spannung: Vorschaltgerät erforderlich
Frequenz: 10-40kHz
Fassung: T5 (16mmDurchmesser)
Länge: 550mm Lichtfarbe: 5800
Schutzklasse: IP 20
UVB: 2,4% / UVA: 12%