Arcadia Series 6 LED Marine / acqua salata
Tempi di consegna
2-5 giorni lavorativi (lun-ven) all'estero diverso
Arcadia Series 6 LED Light - Everything you need for your seawater pool = corresponds to the Aquarium Systems Series 6 LED (the Aquarium Systems LED will be shipped)
Arcadia Series 6 LED unit is a professional LED system with its slim design profile, and six channel control so you have complete control of the colour and power of light over your aquarium.
The Arcadia Series 6 free app allows you to control every spectrum you would need, including all the weather settings from sunrise to sunset, thunderstorm and cloudcover.
The Arcadia Series 6 has interchangeable LEDs which allows you to completely customise the positioning of the LEDs.
The powerful and energy-saving CREE LEDs have 90 or 120 degree lenses. There are 7 differently colored LEDs installed, for a full spectrum lighting. Of course, LED replacement lamps can be ordered. The lamp can either be hung or mounted on the edge of the pool, both the suspension and feet are the aquarium light.
*App available for Android (Google Play) or iOS (Itunes)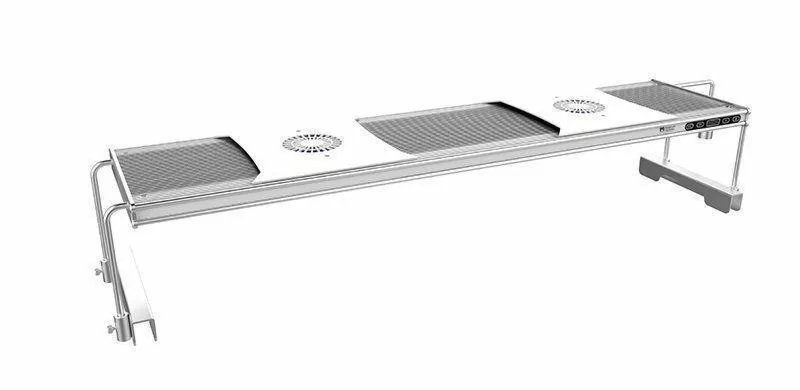 Mounting on support feet or suspension (both included).
Energy-saving, high-performance CREE LEDs with 90 and 120 degree lens.
Reliable Meanwell operating unit (except 300mm LED). Installed
LEDs in 7 colors for full-spectrum illumination
Replacement LEDs available
PAR Measurements (in PAR(μE m2 sec)/W
Abstand
PAR Wert

20cm
390
30cm
280
40cm
219
50cm
190
PAR means Photosynthetic active radiation is a measurement of light power between 400nm and 700nm. It is used to give an indication of the power of light present that is used by organisms which have photosynthetic cells such as plants and corals.
Available LED Module for replacment or customized fitting

AHPGBL3 465-485nm 3W Blue
AHPGGR3 520-535nm 3W Green
AHPGRB3 450-465nm 3W Royal Blue
AHPGRB5 450-465nm 5W Royal Blue
AHPGRE3 620-630nm 3W Red
AHPGUV3 405-410nm 3W UV
AHPGVT3 420-430nm 3W Violet
AHPGWH5 7000-8300K 5W White
AHPGCW5 4500-5500K 5W Cool White
Technical Details:
Manufacturer: Aquarium Systems/Arcadia
Size: 235 - 1150 x 205 x 31mm
Power: 78 -352W
Average Power consumption: 78 - 352kW/1000Std
Aquariumsize: 30- 140cm
LED count: 18 - 96
Wifi: Yes
App-Steuerung: Yes
Led assembly
| | | | | | | | |
| --- | --- | --- | --- | --- | --- | --- | --- |
| | | | AH30XM | AH45XM | AH60XM | AH90XM | AH120XM |
| Channel | LED | LED Type | Count | Count | Count | Count | Count |
| 1 | | CREE WEISS XTE 7000-8300K 5W | 6 | 12 | 16 | 24 | 32 |
| 2 | | CREE KÖNIGSBLAU XTE 450-460NM 5W | 6 | 12 | 16 | 24 | 32 |
| 3 | | CREE BLAU XPE 465-485NM 3W | 2 | 5 | 6 | 10 | 12 |
| 4 | | UV 400-410nm 3W | 1 | 2 | 3 | 4 | 6 |
| 4 | | VIOLET 420-430nm 3W | 1 | 3 | 3 | 5 | 6 |
| 5 | | CREE ROT XPE 620-630NM 3W | 1 | 1 | 2 | 2 | 4 |
| 6 | | CREE GRÜN XPE 520-535NM 3W | 1 | 1 | 2 | 3 | 4 |
More Information

| | |
| --- | --- |
| Fabbricante | Arcadia |
| Tempi di consegna | 2-5 giorni lavorativi (lun-ven) all'estero diverso |
| Specie animali | Aquariofilia |
| Dimmerabile | No |
| Spedizione in camion | no |
| Lunghezza dell'acquario | 30 - 50cm, 50 - 70cm, 70 - 90cm, 90 - 130cm, 120 - 150cm |